About
Jennifer George is a flute repair specialist and professional flautist. She has been repairing flutes for over 20 years. Since 2013 she has been apprentice to flute maker Willy Simmons.
Ian joined her in the workshop in 2016 and carries out scheduling and servicing.
---
Guide Price List
Type
Details

Priced from

Check Over & Adjust
make it play

£20

Service
clean, oil, adjust;
pins pulled (as needed);
shims, felts, corks (as needed);
headjoint cork (as needed);
footjoint & headjoint fitted;
bodywork cleaned

student flute (eg. Yamaha 211) £90;
mid-range £120;
professional £150

(additional items)
pads replaced (as needed)
dents removed
repair damaged keywork etc
heavy tarnish removed


priced individually

Overhaul
as above
all pads replaced


£650

Piccolo service

£100;
professional £120

Alto & Bass flute service

£120

other
Jennifer George custom Silver Low B Extensions for C foot flutes
& Low Bb Extensions for B foot flutes

£100

other
Simmons Headjoints
(pictured)

£1200
October 2023
FAQs
What does it need?
Flutes should have at least a check over each year.
Services should be carried out every 1 to 2 years. If the flute looks dusty between the keys or dirty, if there are torn pads, or bent keys and it has been a year or more, it is time for a service.

How long will it take?
A straightforward service on a well looked after flute usually takes a day or two, and will probably be close to the starting price. more if it needs a lot of polishing or other work. Prices go up with pads and extra work needed. A professional service has a 6 month warranty on the work done.

What about an overhaul?
There is no strict timetable for this. It is occasionally good to restore a flute as closely as possible to new, and replace all the pads. This usually takes about 2 weeks, and the work is under warranty for 1 year.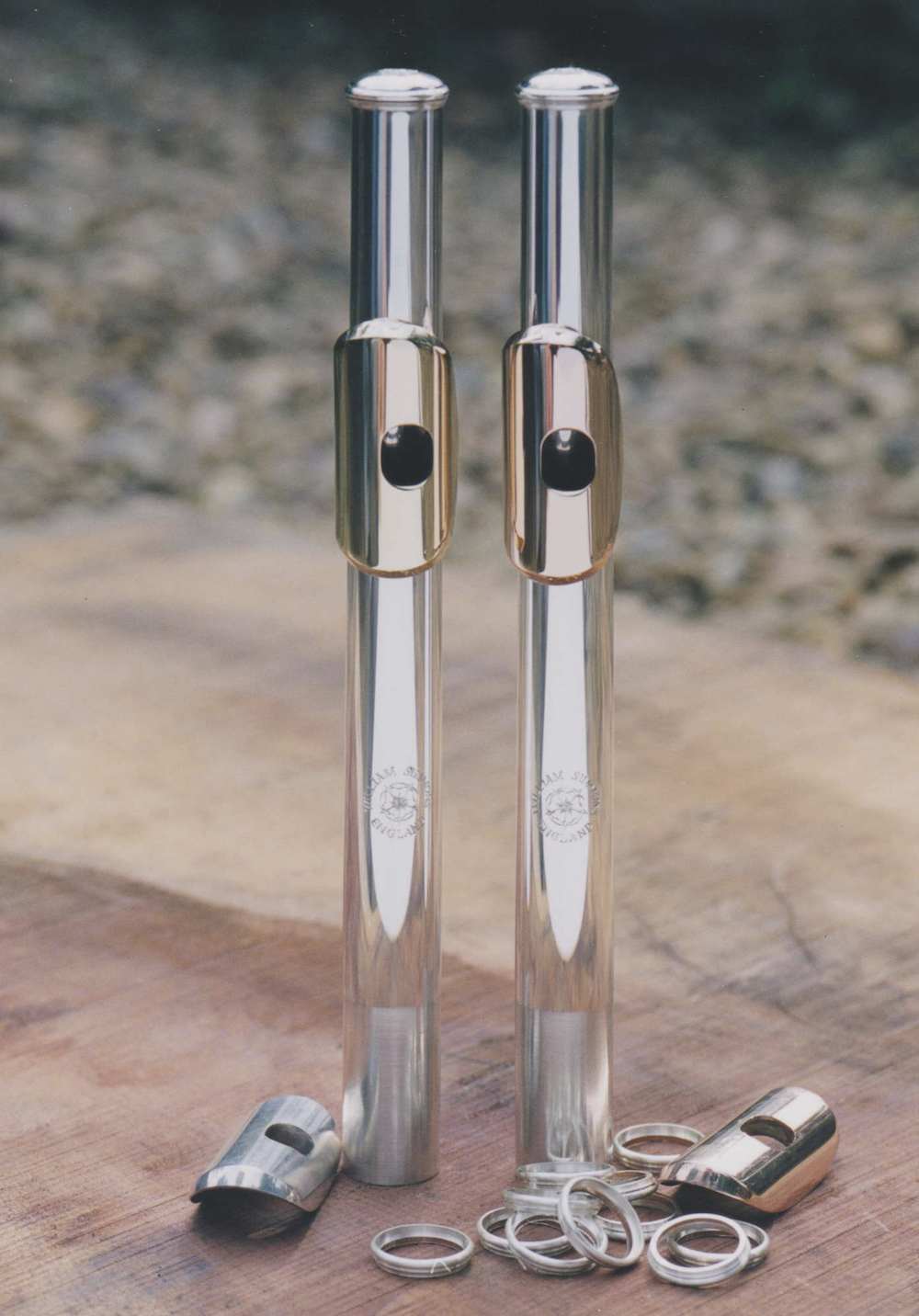 ---